Project Return sites will be closed December 29-December 30 due to a potential COVID-19 exposure. Sites will also be closed December 31, 2021
for New Year's Eve. We plan to reopen January 3, 2022.
Please visit the Project Return Online classroom and resources page.
Please stay posted to this site for more information and updates.
Happy New Year!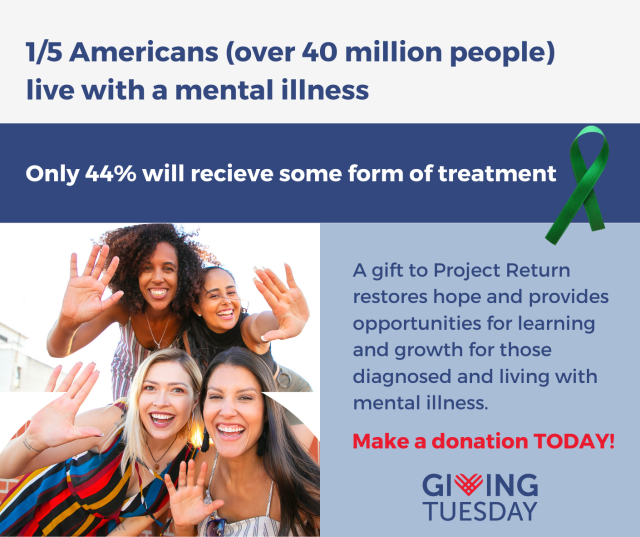 Our Mission
Project Return is dedicated to improving the quality of life for people recovering from mental illness through the Center for Lifelong Education, Training, and Development so that they may live productive and fulfilling lives in the community.
Our Services
We offer a menu of services individuals can choose from including educational classes, social activities, skill-building, personal enrichment opportunities, and access to other community resources all at one convenient location.
Our Information
We strive to provide easy access to information about our services, agency, staff members. Find all the information you need with our Quick Links.
Our Funders
The generosity of philanthropic supporters is the only way we can meet Project Return's current needs and continue to go above and beyond the scope of what would be possible for our members if we solely relied on government funding. This means YOU can help provide our members with the resources they need to create a plan to achieve their life outcomes by making a donation. Project Return is funded in part by Central Florida Behavioral Health Network and donations from individuals, corporations, and foundations.
COVID-19 UPDATE | STEPS FOR PHASED REOPENING
Dear Members, Staff, and Friends of Project Return:
We've missed you! Project Return is excited to continue its phased reopening. Project Return will be calling members to coordinate returning on an individual basis.
As we adjust to new safety precautions to help keep you safe, during phase one a maximum of 10 people will be allowed in the Center per CDC guidelines.
Be on the lookout for a letter from Project Return which will contain paperwork that must be filled out and signed by every member before they are eligible to return.
Please return the documents ASAP in the envelope provided. Once your completed documents are received, you will be put on the list for a future return date. A Project Return staff member will contact you to coordinate your return to the Center.
Video classes will be ongoing, so there is still an opportunity to stay connected until you are cleared to return to the Center.
New safety precautions include enhanced cleaning protocols, temperature checks upon walking in each day, face masks will be available, plexiglass barriers in open offices and more. Social distancing will be practiced.
Limited services for café and lunch will be available. We encourage you to come prepared with a lunch of your own.
Unless a medical necessity, visitors to the Center will not be permitted.
Frequently Asked Questions
What are you going to do to keep members safe?
New safety and sanitation policies and procedures are being implemented as well as a new hall design that enables social distancing. We are also going to be checking temperatures before entry and isolating anyone who shows symptoms.
Do I need to contact Sunshine Line? Cab company?
Sunshine Line – Project Return staff will contact Sunshine Line for you.

Cab – Member must contact cab company on their own
What are the criteria for eligibility to return? How do I maintain eligibility?
First, you must return the completed documents that were mailed to you. If you did not receive it, please contact Project Return. Above all, everyone's health and safety is of utmost importance to us. Project Return will be calling members to coordinate returning on an individual basis.
What if I just show up?
To start, members will be scheduled once per week and on specific days. If you come on a day when you are not scheduled, you will not be able to enter the center, or you will be isolated from the group until you can be picked up.
___________________________________________________________________________________________
Following are helpful links to resources and supports to help our members during this time:
Juneteenth Events Happening Around Tampa Bay
The Mental Health Coalition-Black Mental Health Resources
WRAP Wellness Guide to Overcoming Isolation During COVID-19
New Help Line for COVID-19 Support for CFBHN 14 Counties- 844-MYFLHLP (693-5457)
CDC-COVID-19 Managing Anxiety and Stress
This is an evolving issue with new information being shared daily. We will continue to monitor developments and do our part to reduce the spread of the coronavirus.
"A COPY OF THE OFFICIAL REGISTRATION AND FINANCIAL INFORMATION MAY BE OBTAINED FROM THE DIVISION OF CONSUMER SERVICES BY CALLING TOLL-FREE WITHIN THE STATE. REGISTRATION DOES NOT IMPLY ENDORSEMENT, APPROVAL, OR RECOMMENDATION BY THE STATE."